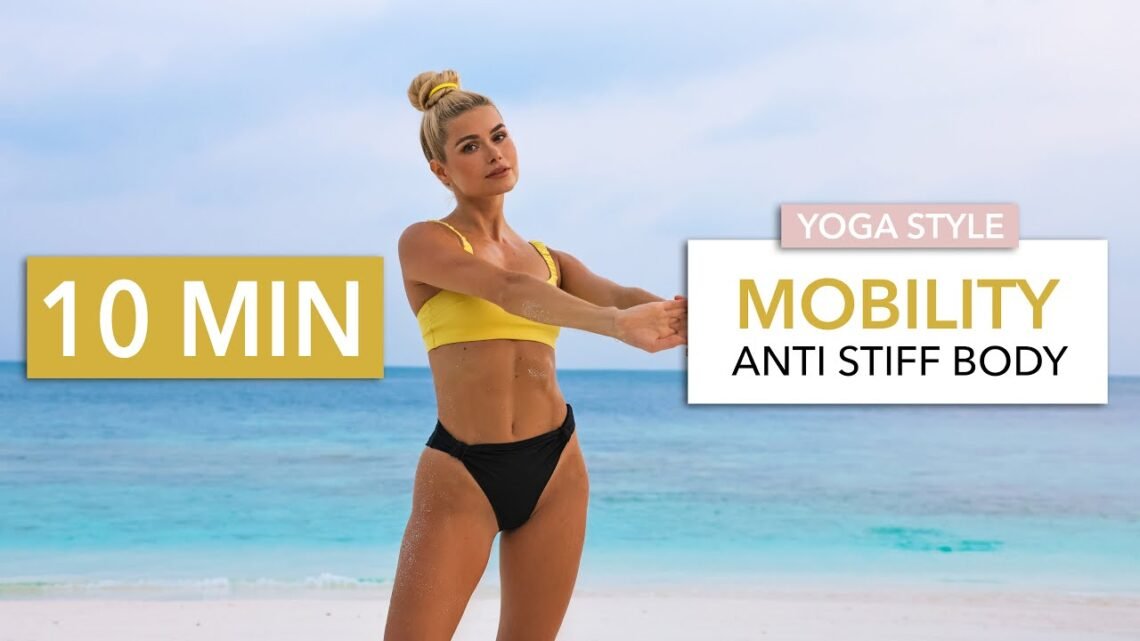 10 MIN MOBILITY ROUTINE – Anti Stiff Body Yoga, dynamic & deep stretching
April 5, 2023
For strong joints, flexibility & fuller range of movements ♥︎
Let's enjoy the freeeeedom of moving our body smoothly until we get old! / Werbung
What are benefits of having good mobility?
▸ to minimize the risk of knots and injuries
▸ being able to perform a full range of motion for all kinds of life (or sports) related movements & not screaming "ouch I cannot reach my toes"
▸ reduces muscle tension from sitting a lot or the opposite: exercising regularly
▸ performing fitness movements with a better technique
▸ to improve your posture
This routine is yoga inspired – but definitely "deeper", harder and more active than the other videos I have ♥︎
Let me know how you like it!
When to do this video?
1. Add a SLOW DAY to your workout week. I always have one Pilates / Yoga / Slow Strength Day. This fits in there!
2. WARM UP or COOL DOWN for an intense workout
3. As a WORK BREAK to fight stiffness and ease sore muscles
4. WAKE UP in the morning, to start your day right and enjoy some me-time 🙂
5. BEFORE BEDTIME to smoothen your stiff body after sitting a lot behind your laptop!
__
▸ You can find all songs in my Relaxing Playlist. I will update it regularly & it's available on Spotify, Apple Music, etc. ♥︎
https://wmg.click/PamelaRelaxing
1. Matteo Myderwyk – Sanctus
2. RIOPY – Memory of Water
3. Jacob Mühlrad – A Nostalgic Mind
4. Matteo Myderwyk – Nostalgia
5. Shani Diluka – Luke Howard: Casino
__
➞ my Pam App ♥︎ Free workout & meal plans (11 versions, different fitness levels), lot of recipes & tips:
https://www.pam-app.de/app
▸ 2 of those FREE WORKOUT PLANS are on my Instagram Channel.
Lose Weight & Focus on a Bubble Butt. Check out the Highlight "Workout Plans" for that.
➞ Instagram http://www.instagram.com/pamela_rf/
➞ Food Account http://www.instagram.com/pamgoesnuts/
▸ Use the hashtag #PamelaReif if you want to share your transformation or training on Instagram 🙂 I always check the posts!
__
unterstützt durch Warner Music Germany
Disclaimer:
When joining me for this workout video, you need to take some precautions as your health and safety is the most important. To avoid any injury or harm, you need to check your health with your doctor before exercising. By performing any fitness exercises without supervision like with this video, you are performing them at your own risk. See a fitness professional to give you advice on your exercise form. Pamela Reif will not be responsible or liable for any injury or harm you sustain as a result of this video.