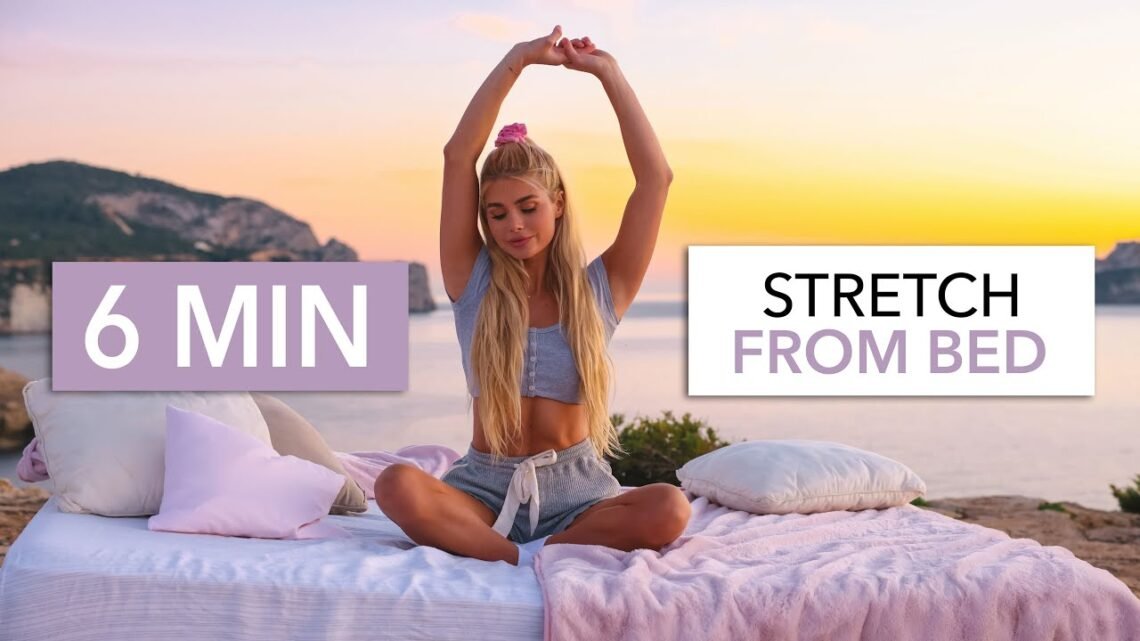 6 MIN STRETCH FROM BED – morning & evening I let go of stress & feel calm
December 29, 2022
A few minutes of "me time" before going to sleep or right after waking up ♥︎ no workout needed & suitable for people who don't train – anyone can do this in a pyjama! / Werbung
What can I say… we put the mattress on top of our car (lol) and carried half a bed to this cliff to make sure we have an extra dreamy location for our "Bedtime Routine" 😀 BUT SO WORTH IT! Somebody should sell this experience to people – it was 100/10 beautiful to stretch on a bed looking at the sunset ♥︎
▸ quick & suitable for every day
▸ I love the music!
▸ morning: to wake up gently
▸ evening: to get calm, relaxed & sleepy
▸ body parts: back, spine, legs, hips, tummy, arms & neck
This is also fully suitable for beginners or people who don't work out at all!
If you want to relief tension, better your posture and ease pain (back, hips, …) this may do wonders 🙂
__
➞ my Pam App ♥︎ Free workout & meal plans (11 versions, different fitness levels), lot of recipes & tips:
https://www.pam-app.de/app
▸ 2 of those FREE WORKOUT PLANS are on my Instagram Channel.
Lose Weight & Focus on a Bubble Butt. Check out the Highlight "Workout Plans" for that.
➞ Instagram http://www.instagram.com/pamela_rf/
➞ Food Account http://www.instagram.com/pamgoesnuts/
▸ Use the hashtag #PamelaReif if you want to share your transformation or training on Instagram 🙂 I always check the posts!
__
▸ You can always find all songs in my workout playlist. I update it weekly & it's available on Spotify, Apple Music, etc. ♥︎
http://wmg.click/GetActive
1. Coldplay – The Scientist
2. Jasmine Thompson – Like I'm Gonna Lose You
3. Birdy – Wings (Acoustic)
__
Business Contact:
pamela_reif@icloud.com
Disclaimer:
When joining me for this workout video, you need to take some precautions as your health and safety is the most important. To avoid any injury or harm, you need to check your health with your doctor before exercising. By performing any fitness exercises without supervision like with this video, you are performing them at your own risk. See a fitness professional to give you advice on your exercise form. Pamela Reif will not be responsible or liable for any injur