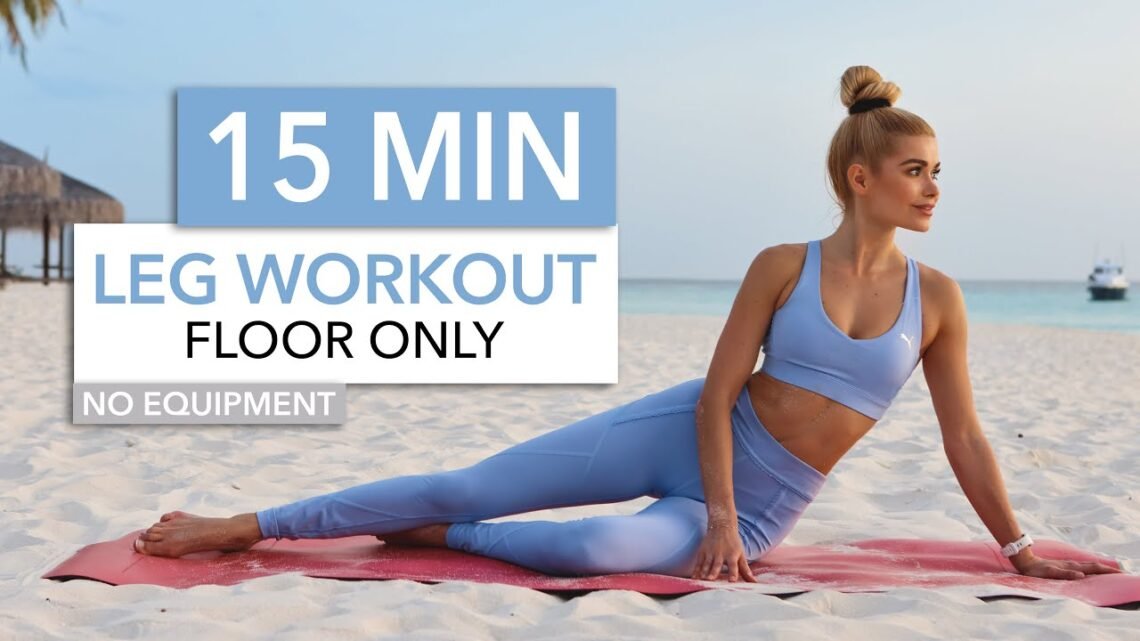 15 MIN LEG WORKOUT, Floor Only – Level: Medium, slow Pilates Style, low impact, knee friendly
December 9, 2022
Floor Only ♥︎ a Pilates-inspired workout. A slow way to train your inner thighs, hamstrings, butt & quads! That means: no squats, nothing extreme for the knees and nothing that will make you sweat! / Werbung
This workout has a touch of "elegance" while moving your legs in all kinds of directions, to train our muscles in a very calm way. We start with a set of Glute Bridges, continued with a big variety of Side Lifts, Inner Thigh Lifts, Booty movements & a small stretching / calm down set in the very end.
Level: I would say it is suitable for all levels. Beginners, Medium & hardcore people can do this on their "Pilates Day", as a muscle activation or to end a workout with a calm burn.
▸ knee friendly, no squats, lunges or jumps
▸ suitable if you have bad joints or suffer from knee pain
▸ a slow workout. No sweat, only strength.
It's super important that you THINK about your thighs, booty & co. during every second of those 15min and try to make them BURN. Means you try to
1) squeeze your butt
2) tilt your hip forward aka. tuck it in for the side lifts
3. move your leg with the "strength" of your muscles and not by swinging
4) don't release tension and relax at the lower point of the motion (e.g. the lower point of a glute bridge), but rather KEEP the tension during the entire movement and squeeze "even more" at the upper point of the motion.
__
➞ my Pam App ♥︎ Free workout & meal plans (11 versions, different fitness levels), lot of recipes & tips:
https://www.pam-app.de/app
▸ 2 of those FREE WORKOUT PLANS are on my Instagram Channel.
Lose Weight & Focus on a Bubble Butt. Check out the Highlight "Workout Plans" for that.
➞ Instagram http://www.instagram.com/pamela_rf/
➞ Food Account http://www.instagram.com/pamgoesnuts/
▸ Use the hashtag #PamelaReif if you want to share your transformation or training on Instagram 🙂 I always check the posts!
__
▸ You can always find ALL SONGS in my workout playlist. I update it weekly & it's available on Spotify, Apple Music, etc. ♥︎
http://wmg.click/GetActive
1. Averagekidluke – No Good 4 U
2. Ricky Rich – All I Need (feat. Franglish)
3. Gorillaz – New Gold (feat. Tame Impala and Bootie Brown)
4. Carlie Hanson – Pretender
5. René Miller – Concrete Heart (Acoustic)
6. Slopes – Days Like These
__
Business Contact:
pamela_reif@icloud.com
__
unterstützt durch Warner Music Germany
Disclaimer:
When joining me for this workout video, you need to take some precautions as your health and safety is the most important. To avoid any injury or harm, you need to check your health with your doctor before exercising. By performing any fitness exercises without supervision like with this video, you are performing them at your own risk. See a fitness professional to give you advice on your exercise form. Pamela Reif will not be responsible or liable for any injury or harm you sustain as a result of this video.