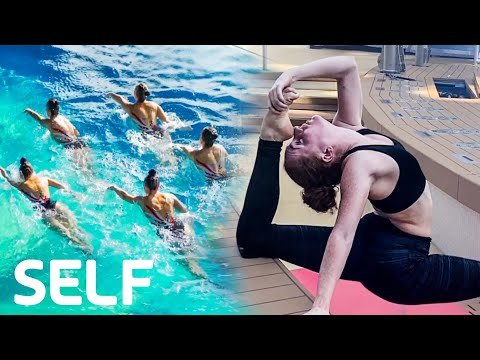 A Pro Synchronized Swimmer's Daily Wellness Routines & Rituals On The Grind SELF
August 12, 2022
Rachel Presser is a professional synchronized swimmer and 2021 olympian who lives a demanding lifestyle performing on Royal Caribbean's Wonder Of The Seas cruise ship. Go deep into her daily routine to see how she keeps her mind and body ready for peak performance in a profession that requires remarkable discipline and extreme endurance.
A very special thank you to Royal Caribbean Cruises, Celia De La Llama and Khiavett Diaz.
Footage of "inTENse" provided by:
Bernardo Saccardin https://www.instagram.com/bernowbstr/
Royal Caribbean https://www.royalcaribbean.com/cruise-ships/wonder-of-the-seas
Director: Meg Sutton
Director of Photography: Camille Irrgang
Editor: Brian Havelka
Talent: Rachel Presser
Producer: Joel David Ahumada
Line Producer: Joe Buscemi
Associate Producer: Josh Crowe
Production Manager: Melissa Heber
Production Coordinator: Fernando Davila
Camera Operator: Xavier Mostacero
Audio: Victor Fernandez
Production Assistant: Eve Breit
Post Production Supervisor: Christian Olguin
Post Production Coordinator: Scout Alter
Supervising Editor: Erica Dillman
Additional Editor: Jason Malizia
Assistant Editor: Andy Morell
Graphics Supervisor: Ross Rackin
Still haven't subscribed to Self on YouTube? ►► http://bit.ly/selfyoutubesub
ABOUT SELF
Daily health, fitness, beauty, style advice, and videos for people who want to achieve their personal best in life.