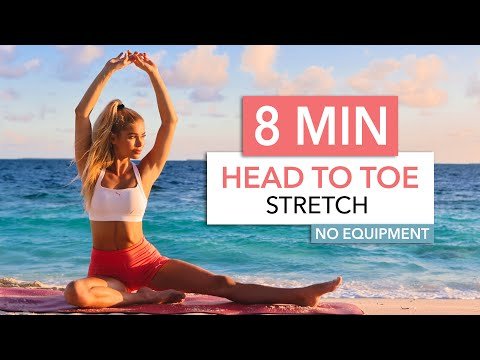 8 MIN HEAD TO TOE STRETCH – after your workout, for flexibility & stiff muscles I Pamela Reif
June 11, 2022
a perfect routine for every day ♥︎ Want to calm down after a workout? Start your day with some easy movements? Or relax along piano music before you go to bed? This one is for youuuuu ♥︎ / Werbung
We stretch our entire body – from head to toe! 8min = 16 exercises. We got lots of possibilities in that short period of time 🙂
– neck, chest & shoulders
– back & spine
– the side of your body, from armpit to hips
– wrists / hands
– legs: hamstrings, thighs, hip flexors & butt
– feet
Those exercises focus more on "active" movements, that go e.g. back & forth, include arm movements etc. 🙂 No sitting, waiting and suffering through the pain today.
Why stretch?
– to make the best out of your training. If your muscles are super stiff, you can't have perfect form in exercises like Leg Lifts or Deadlifts.
– to ease and prevent sore muscles
– to prevent pain. I remember I got joint pain in my knees when I slacked with stretching!
_
▸ You can find all songs in my Relaxing Playlist. I will update it regularly & it's available on Spotify, Apple Music, etc. ♥︎
<a href="https://wmg.click/PamelaRelaxing" target="_blank" rel="nofollow">https://wmg.click/PamelaRelaxing
1. Tharaud – Promenade Sentimentale
2. Riopy – Human Compassion
3. Carlos Cipa – Circulate
__
➞ my Pam App ♥︎ Free workout plans (11 versions, different fitness levels), lot of recipes & tips:
https://www.pam-app.de/app
▸ 2 of those FREE WORKOUT PLANS are on my Instagram Channel.
Lose Weight & Focus on a Bubble Butt. Check out the Highlight "Workout Plans" for that.
➞ Instagram http://www.instagram.com/pamela_rf/
➞ Food Account http://www.instagram.com/pamgoesnuts/
▸ Use the hashtag #PamelaReif if you want to share your transformation or training on Instagram 🙂 I always check the posts!
__
unterstützt durch Warner Music Germany
Disclaimer:
When joining me for this workout video, you need to take some precautions as your health and safety is the most important. To avoid any injury or harm, you need to check your health with your doctor before exercising. By performing any fitness exercises without supervision like with this video, you are performing them at your own risk. See a fitness professional to give you advice on your exercise form. Pamela Reif will not be responsible or liable for any injury or harm you sustain as a result of this video.