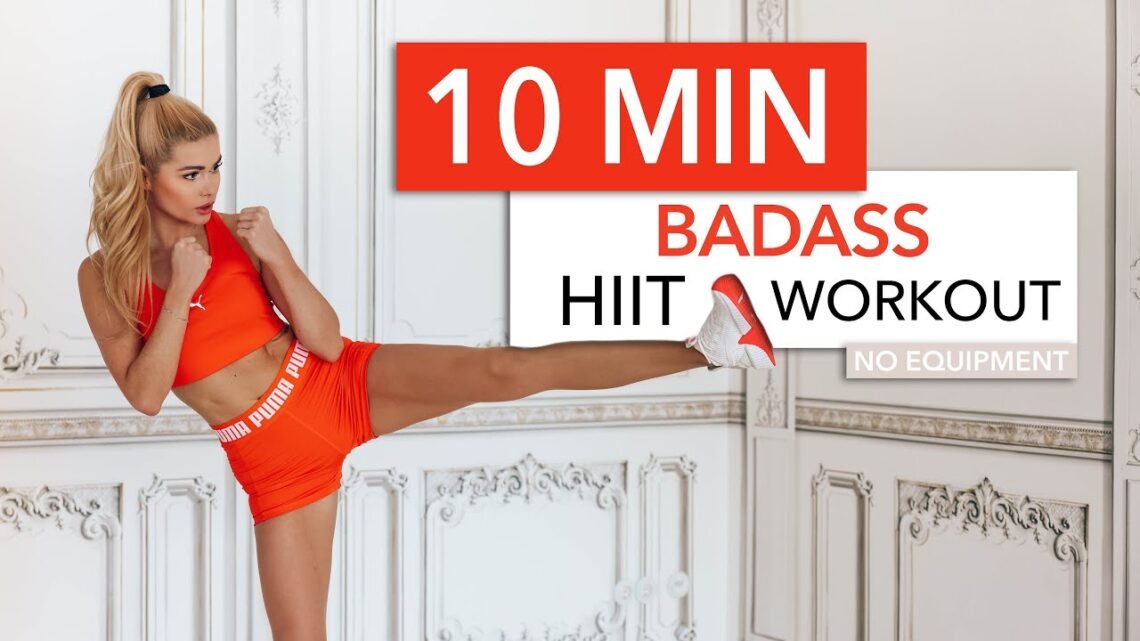 10 MIN BADASS HIIT – sweaty workout to Hip Hop Music, lots of punches & kicks I Pamela Reif
February 23, 2022
Want to feel like a proper Gangster & burn lots of calories… let's gooooo! / Werbung
Uuuhhh that will switch up our workout life!
Let's feel super BADASS & make those High Intensity Sessions more fun! Kick, Box, Punch – in all kinds of variations. And to elevate the coolness, I chose some good old Hip Hop / Rap songs. Hope you likeeeeee it!
▸ HIIT: This will get your heart rate up, burn calories, burn fat, increase your metabolism, benefit your cardio & tone your muscles at the same time 🙂
__
Depending on your fitness level, height and weight you will burn between 70-110 kcal.
I burned about 70kcal in those 10min (remember, I'm a small human and my body is already adapted to plank jumps and burpees haha).
If you struggle or need a break: don't worry about it. Take a small rest, get something to drink & continue once you're ready 🙂 most important is that you don't quit and push yourself.
__
➞ my Pam App ♥︎ Free workout & meal plans (11 versions, different fitness levels), lot of recipes & tips:
https://www.pam-app.de/app
▸ 2 of those FREE WORKOUT PLANS are on my Instagram Channel.
Lose Weight & Focus on a Bubble Butt. Check out the Highlight "Workout Plans" for that.
➞ Instagram http://www.instagram.com/pamela_rf/
➞ Food Account http://www.instagram.com/pamgoesnuts/
▸ Use the hashtag #PamelaReif if you want to share your transformation or training on Instagram 🙂 I always check the posts!
__
I update my workout playlist weekly & it's available on Spotify, Apple Music, etc. ♥︎
http://wmg.click/GetActive
1. Bad Boy For Life – P.Diddy, Black Rob, Mark Curry
2. Belly Dancer – Imanbek, BYOR
3. Nail Tech – Jack Harlow
4. Shimmy Shimmy Ya – Ol' Dirty Bastard
__
Business Contact:
pamela_reif@icloud.com
unterstützt durch Warner Music Germany
Disclaimer:
When joining me for this workout video, you need to take some precautions as your health and safety is the most important. To avoid any injury or harm, you need to check your health with your doctor before exercising. By performing any fitness exercises without supervision like with this video, you are performing them at your own risk. See a fitness professional to give you advice on your exercise form. Pamela Reif will not be responsible or liable for any injury or harm you sustain as a result of this video.