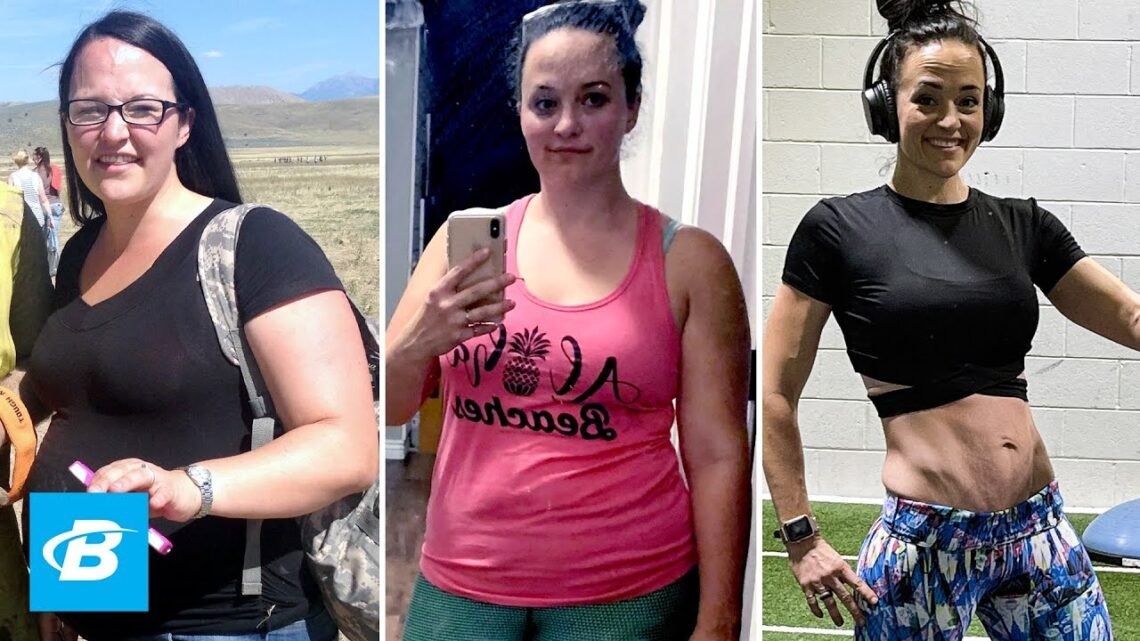 He Didn't Even Recognize Me! Ashley Moore Military Wife Transformation Story
May 10, 2021
This mom of four used her husband's deployment as an opportunity to surprise him by losing over 40 pounds to completely transform her body.
► Read Ashley Moore's full transformation story: https://bbcom.me/3xVeEh9
► Subscribe: http://bit.ly/2DK5lGD
Ashley Moore is a nurse, military wife, and mother of four. When her kids were little, she poured her time and energy into them, which left very little time for herself. A chronic stress eater who assumed cardio was the only option to lose weight (https://bbcom.me/3b8fwFo), Ashley avoided getting serious about health for a long time.
Having failed to lose the weight of her last two pregnancies, Ashley used her husband's 20-week deployment as motivation to finally make a change. Discovering a love of lifting (https://bbcom.me/3vMFvKw) and a much healthier approach to food, she surprised her husband on his return by showing up to greet him smaller and more fit than the day they were married.
Here is Ashley's story. If you want to share your success story with us to be considered for publication, send an email to transformations@bodybuilding.com. – H.E.
I got married just a few years after high school, and we started a family. Right now, my kids are 13, 11, 8, and 6, but they were all little at the same time. I gained about 50 pounds with every pregnancy, but I lost it pretty well after the first two.
After my third pregnancy, I never lost the weight. Then, it segued right into the fourth one. I got to a point where I was actually up to about 215 pounds. I was pretty unhappy with my body, unhappy with the way I felt. I had a lot of depression, anxiety, and stress. But, obviously, my kids were still relying on me, and it was hard.
Ashley's Top 5 Transformation Tips
1. Decide That You're Worth It
I had to decide that I was worthy of the time, money, and effort necessary to make a change. I had to really shift my thinking, and it's been an interesting process. There have been many times when I struggled with loving my body or loving myself. I love who I am now in every way: mentally, spiritually, physically. I have absolutely changed, and I love it and embrace it. Allowing your mind to shift and recognize that you are worthy is a beautiful thing.
2. Find Focus in Fitness
While my husband was gone, I was taking care of my four kids, the yard, the house—I had so many things going on. I needed something else to focus on during that time.
By making health and fitness a priority, I could focus on just what I was eating and what I needed to do to hit my goal. I could go work out and meal prep (https://bbcom.me/2R0doZq) healthy meals. Focusing on my health helped me deal with all the stress and other things that sometimes felt piled on me.
3. Don't Be Afraid of Help
If you need help starting out, get a personal trainer (https://bbcom.me/2Q2isfA)! Find somebody to help who knows this stuff inside and out, what works and what doesn't. There's so much conflicting information out there. No carbs? Yes carbs? I never could figure it out. My trainer helped me make the right changes and dial in my macros to what my body needed. It worked out beautifully for me.
4. Do It for You, to Be There for Them
We give as mothers and as spouses. We give and we give and we give. There comes a point when you have to take care of yourself. It's harder to be useful and helpful to other people if you don't fill your own cup first.
5. Set New Goals
I think having goals (https://bbcom.me/3nXEJYl) is 100 percent necessary. Hitting little personal records here and there can help keep you going, but having something big to drive me out of my comfort zone has been essential for me.
For example, my trainer and I are working toward getting me ready to do a figure competition (https://bbcom.me/3etPLS2). Stepping onstage is something that intimidates me a lot, but I think that is a good thing. I think it's definitely going to grow me in a lot of ways, and even the prep leading up to it is going to help me grow.
You can follow Ashley's fitness journey on Instagram at @fitmom.of.4 (https://www.instagram.com/fitmom.of.4/)
00:00 – Intro
00:38 – Stress Eating
01:40 – My Biggest Obstacle
02:40 – He Did Not Even Recognize Me
03:10 – You Can Do This
========================================­=====
Follow Us
► YouTube: http://bit.ly/1RSJFa4
► Facebook: http://on.fb.me/1lomhpr
► Instagram: http://bit.ly/1LzBxab
► Twitter: http://bit.ly/1RSJQlL
► Google+: http://bit.ly/1NRe8qu
► Pinterest: http://bit.ly/1OOZgY4
► Spotify: http://spoti.fi/1NRebm0
We are Bodybuilding.com. Your transformation is our passion. We are your personal trainer, your nutritionist, your supplement expert, your lifting partner, your support group. We provide the technology, tools and products you need to burn fat, build muscle and become your best self.