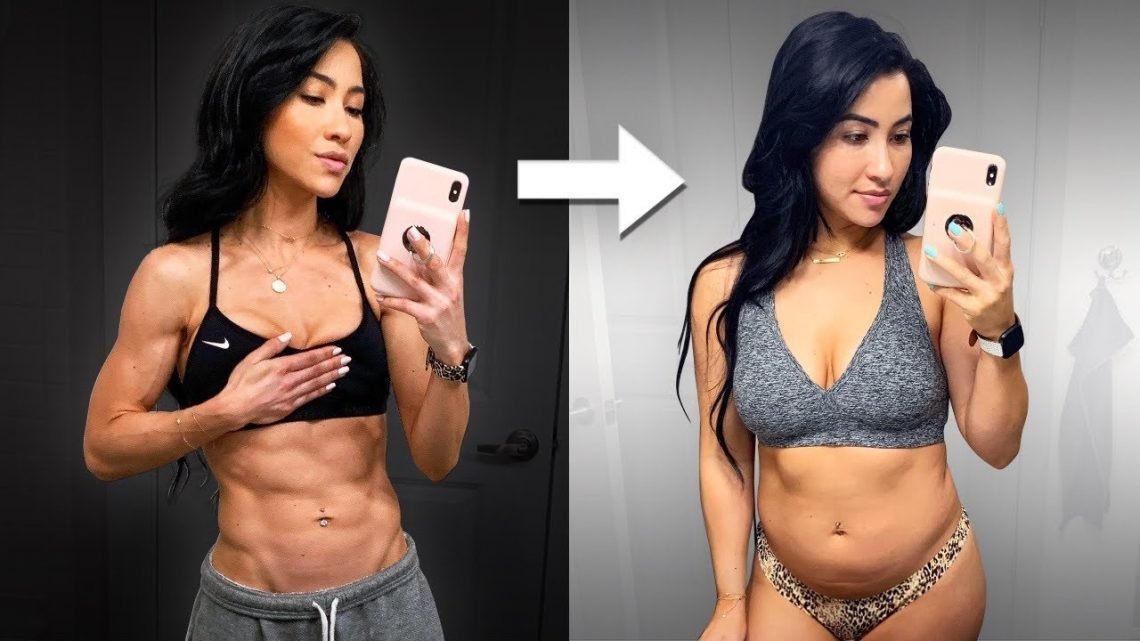 What Everyone Got Wrong About My Weight Gain
September 18, 2020
I hope you enjoy this one! I feel like there's still so much I want to share with you all! Love you so much! ?
If you want daily updates, follow me on IG ?▹
▹IG‣ @stephanie_buttermore
▹ FOOD IG! ‣@StephsHollowLeg
____________________________________________
? Recommended Videos ?
▹Jeff Tries to Eat My All In Diet▹ https://youtu.be/_EDfD6mLocU
▹The Science Behind All In▹ https://youtu.be/mknrIncksQk
▹How 1 YEAR Of Weight Gain Changed My Life Forever (All In Results!)▹https://youtu.be/N9z5xqAP7ek
_____________________________________________
MENTIONED▹
⬜️ Dr. Nicola Rinaldi:
http://www.noperiodnowwhat.com/consulting
Book: http://www.noperiodnowwhat.com/book
⬜️Abbey Sharp
Youtube:https://www.youtube.com/user/AbbeysKitchen
_____________________________________________
??‍♀️? MY AT HOME PROGRAM IS LIVE!! ??
Only $25!
Find full details here: https://www.stephaniebuttermore.com/at-home-training-guide
___________________
CONTACT ME ▹
PROGRAM QUESTIONS ONLY: stephaniebuttermore@gmail.com
BUSINESS ONLY EMAIL: sbuttermore25@gmail.com
(I DO NOT DO SPONSORED VIDEOS, SO DO NOT EMAIL ME IF THAT'S WHAT YOU WANT!!!)
?P.O. Box. ?
Stephanie Buttermore
13245 Atlantic Blvd
Suite 4-242
Jacksonville, Fl 32225
_____________________________________________
REFERENCES▹
◾️Herman, C. P., & Polivy, J. (1983). A boundary model for the regulation of eating. Psychiatric Annals,
◾️Denny KN, Loth K, Eisenberg ME, Neumark-Sztainer D. 2013) Intuitive eating in young adults. Who is doing it, and how is it related to disordered eating behaviors?
◾️Keys, A., Brožek, J., Henschel, A., Mickelsen, O., and Taylor, H.L. (1950). The biology of human starvation. (2 vols).
◾️Kalm & Semba (2005): "They Starved So That Others Be Better Fed: Remembering Ancel Keys and the Minnesota Experiment"
◾️Eckert et al. (2018): "A 57-year Follow-up Investigation And Review Of The Minnesota Study On Human Starvation And Its Relevance To Eating Disorders"
◾️Speakman et al. (2011): "Set points, settling points and some alternative models: theoretical options to understand how genes and environments combine to regulate body adiposity"
◾️Müller et al. (2018): "Recent Advances in Understanding Body Weight Homeostasis in Humans"
◾️Guyenet & Schwartz (2012): "Regulation of Food Intake, Energy Balance, and Body Fat Mass: Implications for the Pathogenesis and Treatment of Obesity"
◾️Diaz et al. (1992): "Metabolic Response to Experimental Overfeeding in Lean and Overweight Healthy Volunteers"
◾️Pasquet & Apfelbaum (1994): "Recovery of Initial Body Weight and Composition After Massive Overfeeding in Men"
◾️Tremblay et al. (1992): "Overfeeding and energy expenditure in humans"
◾️Johannsen et al. (2019): "Metabolic adaptation is not observed after 8 weeks of overfeeding but energy expenditure variability is associated with weight recovery"
◾️Westerterp (2017): "Doubly labelled water assessment of energy expenditure: principle, practice, and promise"
◾️Heyman et al. (1992): "Underfeeding and Body Weight Regulation in Normal-Weight Young Men"
◾️Rø Ø, Reas DL, Rosenvinge J. (2011) The impact of age and BMI on Eating Disorder Examination Questionnaire (EDE-Q) scores in a community sample.
◾️Zeeck A, Stelzer N, Linster HW, Joos A, Hartmann A. (2011) Emotion and eating in binge eating disorder and obesity.
◾️Yiu A, Christensen K, Arlt JM, Chen EY. (2018) Distress tolerance across self-report, behavioral and psychophysiological domains in women with eating disorders, and healthy controls.
◾️Tranoulis A, Soldatou A, Georgiou D, Mavrogianni D, Loutradis D, Michala L. (2020) Adolescents and young women with functional hypothalamic amenorrhoea: is it time to move beyond the hormonal profile?
◾️Miller KK, Parulekar MS, Schoenfeld E, et al. (1998) Decreased leptin levels in normal weight women with hypothalamic amenorrhea: the effects of body composition and nutritional intake.
___________________
BEST PROTEIN OF ALL TIME
Discount Code: STEPH
Cake Pop Protein ??▹https://pescience.com/collections/protein/products/select-protein?variant=28668120399947
FTC: If you use my code I make a small commission. Thank you for your support!
___________________
MUSIC ▹
• Epidemic sound
• Jordyn Edmonds▹ https://soundcloud.com/jordynedmonds
• Andrew Applepie▹ https://soundcloud.com/andrewapplepie
___________________
FAQs ▹
1.What is your ethnicity?
‣ Mom is Thai and Dad is Canadian..Eh?
2. How tall are you?
‣ 5'4″(and a half ?)
3. How old are you?
‣ 30
3. What did you research?
‣ Watch my PhD Day in the life video ▹ http://bit.ly/dayasaphd
4. Is Jeff your boyfriend?
‣ Duh
5. Is that your real hair?
‣ Yes
___
AYOOO!! My name is Stephanie Buttermore and in a few words I am a fitness enthusiast but a scientist at heart! I just obtained my Ph.D. in pathology and cell biology with a research focus on the molecular mechanisms that drive ovarian cancer progression. Hope you stick around! xoxo
___
FTC: This video is NOT sponsored.